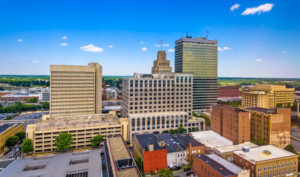 Being arrested and taken into police custody is a scary situation for anyone to find themselves in, but it's also stressful and frightening for their friends and family. If you get that surprising phone call that a loved one is in the Winston-Salem jail and needs your help, it's important to understand what you can expect to happen and what you can do to get them out quickly.
Where to Begin When a Loved One is in Winston-Salem Jail
If you have a friend or family member being held at the Winston-Salem jail, there are a few things that will be helpful to know as you go through the process of trying to get them out. First, you must know exactly where the detention center is located, which is at 201 North Church St. in downtown Winston-Salem. There are a number of businesses and bus stops nearby. You may go to the jail or call to find out the defendant's bail information so you know exactly which steps to take next.
Finding a Bail Bondsman & Posting Bail
Once a defendant has gone through the booking process at the Winston-Salem jail, they will be allowed one phone call. They may choose to call a bail bondsman directly or ask a friend or family member to help with the bail process. Defendants will typically have their bail amounts set within 48 hours after their arrest. This amount is determined during a bail bond hearing and is usually based on the types of charges being filed, previous criminal records, community ties, and state of employment.
If you happen to be the friend or family member your loved one decides to call, you have the option of paying a cash bond in full or a surety bond provided by a third party bail bonds company. When you work with a bondsman, you will be required to pay a percentage of the bail amount upfront. If you don't have the cash available, you can likely make arrangements to use collateral.
Discharge Procedures
In most cases, after the necessary funds have been acquired to post a defendant's bail, it can be taken to the Winston-Salem jail 24 hours a day, any day of the week or to the Forsyth County Court during operating hours, which are 8:00 am to 5:00 pm on weekdays. It's best to call the jail for specific instructions on how to post bail and where to go. The bail paperwork should take only 15-30 minutes to complete if you have all the proper documentation and identification with you. Then, the discharge process will begin. Your loved one's release may happen within the hour, or it could take an entire day.
Around the Clock Bail Bonds Provides the Quickest & Easiest Way to Get Your Loved One Out of Jail
Around the Clock Bail Bonds is committed to guiding defendants and their friends or family members through the bail process with ease. We recognize that unexpected life events can occur at any time, and our 24-hour services are always ready to help. You can count on us to swiftly and discreetly work to get the defendant out of the Winston-Salem jail in as little time as possible.